gradient
Posted: February 21, 2014 By Kristin Williams With 0 responses
Categories ::
About the Author
Testimonials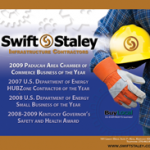 Thank you and your staff for the excellent work in designing the Swift & Staley website. As novices in the website game, your patience with us and your guidance resulted in a fabulous product.Your ability to take our ideas and transform them into a professional, eye-catching site is noteworthy.
Scott Smith, Swift & Staley
An error has occurred, which probably means the feed is down. Try again later.